Musical Masterpiece :: Downtown Librarian plays Uptempo Soul and African Funk
Friends – This weekend, if you find yourself near:
Valentine's [232 SW Ankeny PDX]
Friday 1/23
Tiga [1465 NE Prescott PDX]
Saturday 1/24
Drop in and have a drink. Matthew Yake will be spinning records 9pm – Close at both locations.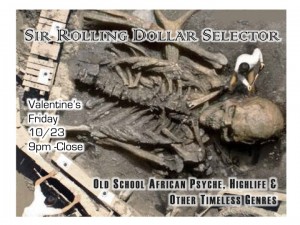 He was kind enough to send me this Youtube Video so that we would have some 'sound bites' to chomp on while we eagerly waited to get out of work and go listen to his tunes
BTW Matthew Yake is also blogging for Multnomah County Library where he works as a Librarian.
How cool is that? A librarian blogger dj. Fuck. Thank god he is already my friend or I would be super envious and have to start stalking the mofo.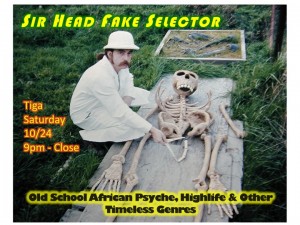 Here…Read this.
I have included an excerpt from one of his posts from the library's blog
Saturday January 03, 2009
Hope for the Best, Prepare for the Worst…

If Russian academic Igor Panarin newest theory is correct, in about 18 months Oregon will be part of China. This is part of a larger forecast Panarin made which predicts that the United States will dissolve into six spheres of influence under conditions most of us would liken to an apocalypse. Happy New Year! Thankfully, Panarin states that there is only a 45-55% chance of said event coming to fruition. Whew…

To be honest, Panarin's prognostication doesn't exactly fill me with dread. Call me an optimist but I'm not about to spend 2009 preparing for the end of the world as we know it. However, if that tingling, creepy, melancholy feeling is what you're looking (and as a fan of post-apocalyptic movies I could sympathize) try Cormac McCarthy's The Road. It's a quick read compared to his many of his other works and, like No Country for Old Men, it has recently been adapted for film. In fact, some of The Road's bleak, weather-beaten, exterior sequences were filmed in Oregon. Considering that we've been at Nature's mercy for the past couple weeks it might be easy to identify with this novel's protagonist and his efforts to save his son in a cold world, nearly burned away by an unnamed ecological disaster of unimaginable scale.

And, if things do happen to get worse here, we can count on Joshua Piven's The Complete Worst-Case Scenario Survival Handbook to provide a plan for escape. Illustrated with easy-to-read diagrams and including even (or perhaps, only) the most outlandish predicaments, Piven's book makes imagining being attacked by a bear fun again. I recommend the audio-book version as read by Mr. Burt Reynolds. Clocking in at a little less than two hours, it is the perfect duration for a trip through the Cascades or out to the coast and it will keep you in stitches as it prepares you for anything that could, but almost certainly won't, go wrong.

As far as secession from the union goes, Panarin's a step slow. Folks around these parts have been dabbling with that idea for a while now. Hypothetical nation-states have included; the Republic of Cascadia, the State of Lincoln and the State of Jefferson. If one needed convincing of the longevity of this concept I'd point them in the direction of The State of Jefferson a terrific collection of prose and photos by Bernita Tickner and Gail Fiorini-Jenner. The State of Jefferson is a causal look at life in Southern Oregon/Northern California and includes many playful observations such as the re-emergence of Etna, the official beer of the State of Jefferson. The real fun in The State of Jefferson is looking over its many photographs. Their quality and abundance makes imagining living in this place, both mythical and real, a joy. More of Matthew's Post from Jan 3rd…
I think Matthew writes really well and I am thrilled to see that the library is paying him to blog about the books there. He has worked at the library for eight years. He _knows_ those books dude. Who better to get a recommendation from then someone who has been working there for years? I wonder if they will post the top picks or something fun like that? I wonder if they get to write about more stuff than books? I wonder if anyone will read this post? Well whatever. Just go to listen to him spin. I mean it when I say you will not be disappointed. Peace.